The Female Band That Had Sex With Their Fans As Part Of The Show
It's strange that we live in such a technological age and yet the idea of bands incorporating theatrics into their shows is considered with a few exceptions for the likes of Pink Floyd and Roger Waters, The Who and some more underground bands, it's rare that a live band gives their audience much to look at.
In 1997, one metal band made up of all women (and eventually one man) decided to give their audience a whole lot to look at. The result was a band that caused a ton of controversy in their four years of existence. This is the story of the female band that had sex with their fans as part of the show.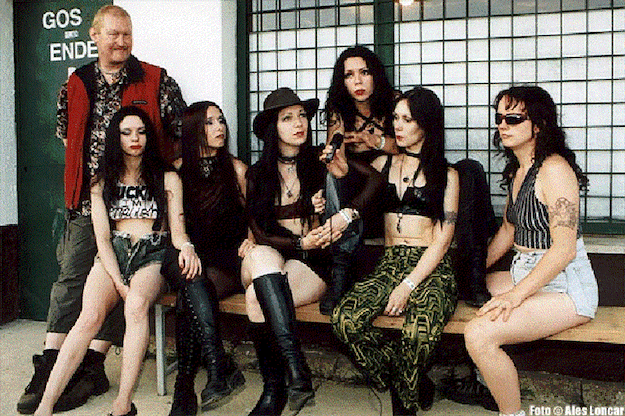 Meet Rockb*tch
Rockb*tch was a mostly female band that played a mixture of metal, jazz funk and rock music. Besides their catchy stage name, they were also known for their elaborate stage shows which incorporated pagan rituals and many sex acts on stage. They considered themselves feminists.
History of Rockb*tch
The band was formed out a matriarchal, polyamorous, pagan, feminist community in the UK that was founded by bassist Amanda Smith-Skinner who would become known in the band as "The B*tch."
The band was originally called Red Abyss and consisted of Julie Worland on vocals, Smith-Skinner on Bass, Jo Heeley on drums, Lisa Wills also known as "Babe" on rhythm guitar and The Beast (the only male in the group on lead guitar) and Nikki Fay on Keyboards.
Sex on Stage
The group was supposed to be playing their last show at a biker festival. They decided at the last minute to incorporate some of the pagan sex rituals they engaged in at home into the sex show. This new take on the band's performance birthed a new era for the band.
Lineup Change
The band changed its name to Rockb*tch with the introduction of Jo Heeley on drums. They also started to add members to the band who didn't sing or play musical instruments, rather their role in the band was purely performative. For instance, there was "Luci the Stage Slut" and "The Heama-Whore" and "Kali and Erzulie the sex Magik Priestesses."
Luci the sex slave
A recording of one of the band's live shows has a scene from the early days of the band's sexuality on stage. Painted in all blue, Julie Worland brings a half naked Luci on stage. She says, "This is Luci, my sex slave and there are some things that I'd like to show you about women that I think are quite interesting. The things I like about women are their little t*ties. I do like to suck on those from time to time." As she says this, Julie grabs Luci's nipple and pinches it. "The other thing I like about women are their juicy little vaginas. I often like to stick my finger deep inside." As she says this, Julie puts her hand down Luci's pants.
Feminism.
Regarding the introduction of sex to their stage show, Julie said. "We are radical feminists and we are taking female sexuality and sticking it right in people's faces." Lucy adds, " We started the band years ago and there were lots of men in the band at the time and the testosterone was really high and the creativity was very low, so I thought I'll get more women in."
"We were doing normal music and we were trying to be like a rock band but coming off stage because we live like this naturally, we were more outrageous on stage then off stage and we were like 'there's something wrong here'… So we thought let's just be natural, let's be happy with who we are. At least I know that I'm going to be happy in this life. I don't care if nobody understands me because I'm going to have a whale of a time. "
The golden condom
Perhaps the most controversial aspect of the Rockb*tch stage show was their use of the "Golden Condom." At a certain point during their shows, a member of the band would toss a condom with a gold colored wrapper into the audience. Whichever audience member caught the condom, be it male or female, would be taken backstage for sexual relations with one or more members of the band.
The ritual
The documentary about Rockb*tch shows the actual ritual of the golden condom. Babe announces midway through the show, "It's time to prove that we mean what we say, that if you were f***ing instead of fighting, you'd be happier wouldn't you? This is the golden condom. It's open to whoever catches it. " Babe then turns with her back to the audience and tosses it behind her. Men lunge for the flying condom and a man in a tucked in t-shirt walks up onto stage. They ask his name, he replies "Peter." He is then taken by the hand by Luci and walked off stage as they shout "Good Luck Peter." When asked later by a reporter "What did you do with him?" Luci replied "sucked him off."
Touring and issues
The band toured the world from 1998 to 2002 but they also faced a great deal of resistance because of the sexual nature of their shows, particularly in England, Germany and especially Norway where town councils banned their concerts from taking place. However, the controversy and censorship only served to help sell out their concerts.
Sex and money
Many critics have claimed the band simply used sex in order to sell their sub-par music but some musicians have showed appreciation for the band's music after the fact. When asked about the possibility that people simply attended their concerts for the sex, Babe told the BBC "Rockbitch had no problem with lads out for seeing breasts, as they were a component of the audience, there were always others seeing the deeper meaning and both groups had a good time. They generally made up for a great combined atmosphere.
Sexism
"The fact that there's a lot of controversy about who we are, what we do on stage is just pure sexist bullocks, there have been weirdos in rock n' roll since it began, since Elvis, everybody had a problem with him, he was being sexual. It is pure sexism. We said it before we'll say it agin, when Iggy Pop gets his ass all out on stage, he is still taken seriously as an artist. It's wrong that you don't look at us with the same eyes."
B*tchcraft
The documentary on the band, B*tchcraft follows the band around on tour and proves the extent to which they practice what they preach. The documentary shows band members participating in oral sex on one another in the limousine after concerts, in hotel rooms and, of course, on stage.
Sexual energy
A scene in B*tchcraft shows Luci being held on top of Babe's shoulders while Julie performs oral sex on her. After which The Beast states, "We want to sexualize them. The things we do aren't accidental. We want to create a sexual energy on stage which we hope to extend to the audience. Some guys might just say, 'this is cool' but some people are actually changed. Some people who were crippled sexually are changed. It's like a magic ritual. They become part of our orgy. We want to sexualize the world.
Educational
Singer Julie also states in the documentary that the stage show was educational. "I want to educate the guys of our world. I'll show them how to f*** a girl properly. They don't have to be shy about it. I'm not shy about it. We should do it more and be happy." Babe adds "It's an education in a way of thinking as well. Nobody expects pretty girls to be able to play music, to be as sexually aggressive as we are. We gain a lot of respect and it teaches men to look at women and think 'what is there behind those eyes.'"